Model B-500CW 500 Pound Counterweighted Crane
The Model B-500CW Hydraulic Floor Crane is designed without front legs, thus eliminating interference with load lifting or equipment.
The B-500CW includes the counterweight and extension boom at no additional cost.
Call Now: (800) 726-9491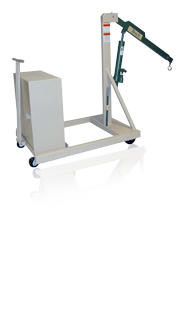 Model B-500CW Features
500-pound capacity.
Lift height of over 85" at full capacity.
Safety Swivel Hook is attached directly to extension boom.
For ease of movement, our crane has phenolic wheels with roller bearings 6" diameter x 2" wide load wheels and 4" diameter x 2" wide steering casters.
Optional wheels and floor lock available.
Safety by-pass relief valve is standard to prevent dangerous overloading.
Each machine is factory proof tested to 150% of capacity.
2 year warranty on entire machine, 5 year on frame weldment.
Exceeds ASME PALD-12 and ANSI Z535 Standards.
Weight 935 pounds (Counterweight = 700 pounds).
Lift ¾" per pump stroke
"The Beech Advantage" is a counterweighted crane with no legs out from to interfere with load lifting or placement.
The Beech B-500CW crane comes complete with counterweight and extension boom at no additional cost.
Model B-500CW Specifications
Min

Max

B-500CW
Single
Speed
Manual
935 lbs.
41"
47"
53"
59"
500 lbs.
425 lbs.
375 lbs.
350 lbs.
22"
17"
13"
9"

88"
94"
99"
104"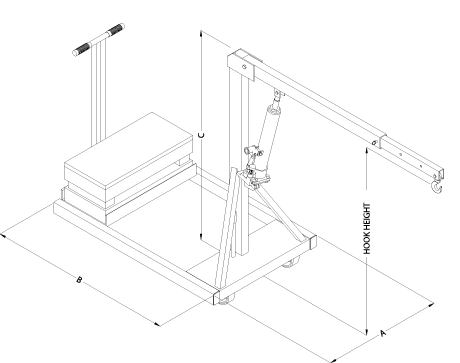 1 Pump is equipped with internal load relief to protect both load and crane.
2 Measured from centerline of load wheel to the centerline of load hook.
3 Add 7" to maximum hook height to assure overhead clearance.